Giewont is 1894 m high and has characteristic profile of – as legend says – sleeping knight. It is located close to Zakopane city what makes it very popular and crowded. I suggest not to go there during summer weekend unless you want to wait 3 hours in queue to the peak :)
Giewont is very good as one or half-day trip. If you start and finish in Zakopane the trip will be about 1000 m high and 13 km long (see on mapa-turystyczna.pl). There are also two mountain huts on the trail leading to Giewont (Kalatówki and Hut at Hala Kondratowa) so if you start there, a trip will be very short.
Accessibility for people who don't have good condition, nice views from the peak, characteristic shape and good visibility from Zakopane make Giewont very famous. Every tourist wants to stand on Giewont and everyone wants to have a photo with 15 m high cross at the peak.
Trail leading to Giewont isn't difficult but below the peak, at about 1850 m starts a little harder part. It is secured by chains and if you have fear of height for sure it will be scary for you. Hardship is caused also by slippery stones so you have to be careful there even if there's dry.
To avoid crowds I took a trip to Giewont on the second half of September, on Friday (the photo above I made from Sarnia Skała during different trip, in July). Despite it wasn't high season there was so many tourists, that we have to wait until some of day descent to be able to stand on the top (the summit is small and not many people can be there at the same time). It was also hard to ascent and descent fast, because of queue and many beginner tourists.
Do you want to know how it looks like at high season?
Like this: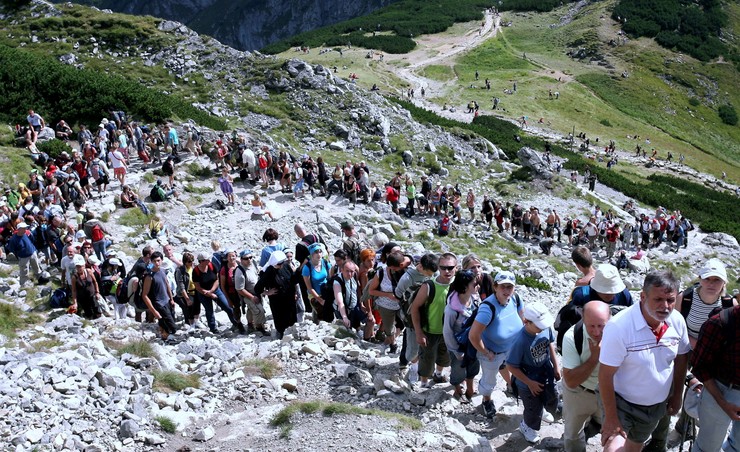 I found this photo at wiadomosci.onet.pl/kraj/kolejka-na-giewont/ and according to information at this website, it was 3 hours of waiting…
Here is another photo, from talajkowski.wordpress.com, a blog of 11-year old boy.
I think some parts of this boy's article are worth translating :)
A huge stoppage created there. Because normal tourists standed in queue circling the peak and dodgers after entering the summit immediately were going to the cross. So the queue stood in the place and people began to push against each other. (…) Generally scenes at Giewont were the same as in some poor movie: loud jokes and laughter, shouts at children, mutual pretensions of ugly pictures etc. (…) As for the photos, unfortunately many tourists did not understand, that everyone would like to have a souvenir pic. So, when they grabbed to the cross they did not want to leave. However, finally I was able to sit next to the cross.
Great experience and atmosphere ;)
Below are few photos from my trip to Giewont. I don't have many and I don't have any photo of the summit because I don't like when people cover nice views…
You may also like